This is actually one of the most common questions about scabies. We know they make you itch and we know they're monstrous, but what does scabies look like?
This is really important to know, because scabies is diagnosed incorrectly quite often. Things it is commonly confused with are morgellons, hives, eczema, various skin allergies, heat rash and other insect bites. Really the only way to be 100% sure it is scabies is to visit your doctor or dermatologist and get a skin scrape, or get them to look at you through their funny Star Trek looking glasses (those are actually really strong microscopic glasses, which are necessary because scabies are microscopic!).
Luckily I've been a total scabies nerd since my infestation, so let me tell you some of the tell-tale symptoms, and then I'll show you some pictures of scabies rashes for you to compare to your own skin.
What does scabies look like?
1. A red rash on the skin
One of the most common symptoms is a red rash on the skin, similar to eczema. This is usually aggravated by scratching.
2. Little red bumps, like pimples
They actually appear a lot smaller than pimples, but the shape and appearance is the same.
3. Burrow lines in the skin
You're probably aware that scabies burrow through the skin, and in their wake they leave little scabies burrows, which appear as darker lines. If you look at your skin closely, you should be able to see them.
Pictures of scabies rash
Here are a few pictures of scabies rashes to help you identify them
Note: All photo credits belong to Dermnet NZ and are used here under a Creative Commons License.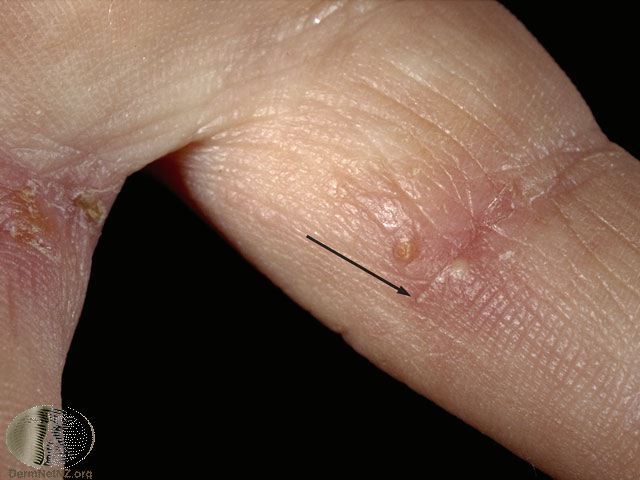 Again, the easiest way to get a confirmed diagnosis is to get examined by a doctor or skin professional. This is a much better way to deal with scabies then sitting there with your home microscope wondering "What does scabies look like?!" Your doctor will have the equipment necessary to actually see the mites and burrows and then you can get on with your treatment if needed. This is important – you don't want to let a scabies infestation develop and risk spreading it to your friends, family and workmates!